Chateau de Groussay - castle interior. Entrance hall. 1942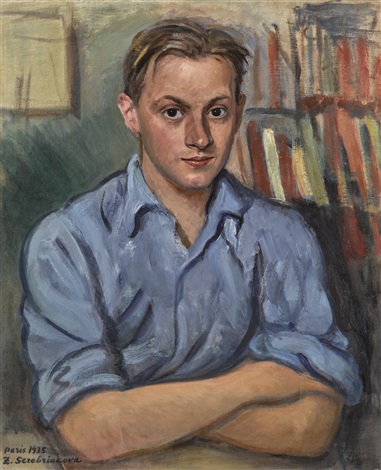 Portret of Alexandre Serenriakoff painted by his mother Zinaïda Serebriakova
Alexandre Borissovitch Serebriakoff is a Russian painter, watercolourist and decorator, born 1907 in Neskoutchnoïe, near Kharkov (today Ukraine), died in Paris in 1995. Exiled in France after the Russian Revolution, he
practiced the rare specialty of interior portraiture, leaving a meticulous testimony of the decorations and festivals of French high society.
He often signed his works with his sister, Catherine Serebriakoff.
Alexandre Serebriakoff was born into a family of artists. Her mother, Zinaïda Serebriakova, is the first Russian woman to be recognized as an important painter. It is related to the Benois, a famous dynasty of Russian artists who emigrated from France in the 18th century. Alexander's great-grandfather is the architect Nicolas Benois, his grand-uncle is the painter, decorator and scenographer Alexandre Benois, founder of Mir Iskousstva and friend of Serge de Diaghilev. His grandfather Eugène is a sculptor. One of his uncles, Eugène Lanceray, is a sculptor, painter and graphic designer, the other, Nicolas Lanceray, a renowned architect.

Alexandre Serebriakoff was seven when the October Revolution broke out. All family property is then confiscated, in particular the property of Neskoutchnoïe (in French, "Sans Souci") where he was born. His father, Boris, was imprisoned by the Bolsheviks: he died in 1919 of a typhus contracted during his imprisonment. His mother takes her children to Petrograd to try to survive, but, faced with difficulties, resolves to emigrate alone to Paris in 1924. Alexandre and his sister Catherine will join her soon after. It was there that Alexander began his career as an interior decorator. He stayed in Camaret-sur-Mer and Concarneau, with his family, for several summers the following years.

Alexandre Serebriakoff is buried with his mother, Zinaïda Serebriakova, in the Russian cemetery of Sainte-Geneviève-des-Bois
He works for sponsors of high society in Paris or London, whose places he represents, mansions and castles: among others, Mr. and Mrs. Arturo Lopez-Willshaw, the Duke and Duchess of Windsor, Baron Alexis de Redé,
Charles de Beistegui, the Rothschilds, the Schneiders, Mr. and Mrs. Ronald Tree in Ditchley, Mr. and Mrs. Emmanuel de Margerie.
Rodocanachi Hotel, Blue Salon. 1950
Hotel Rodocanachi - Office
Hotel Rodocanachi. Office. 1950
Paris. Henry IV Embankment. 1948
Hotel Rodocanachi. Flower Room of Madame Lopez Willshawi. 1951
Hotel Rodocanachi. Dining Room. 1950
Hotel Rodocanachi. Room. 1951
Hotel Rodocanachi. Large room. 1946