Fresh Coffee Ice Cream Recipe
Ingredients of Fresh Coffee


Ice Cream

:

6 egg yolks
4 tbsp fresh coffee (finely ground)
8 oz soft brown sugar (light)
1 pint milk
6 fl.oz very hot water
How to make Fresh Coffee Ice Cream:
Take the finely ground coffee and pour the water onto it then let it stand for about 10 mins.
You then need to remove the coffee grounds so strain the mixture.
In a heatproof bowl mix together the sugar and egg yolks, then whisk until thick and pale.
Whisk in the milk and the coffee, then put the bowl over a saucepan of simmering (though not boiling) water.
Cook until the mixture is thick being sure to stir it all the time.
Take the saucepan off the heat and place the bowl to one side to cool.
If you want to prevent a skin forming on the mixture you can try covering the surface with a piece of damp, greaseproof paper.
When cool, transfer the complete mixture into an ice cream maker and follow the manufacturer's instructions.
Fresh Coffee Ice Cream is ready now.
Enjoy!
Neapolitan Ice Cream Pie
Thanks to a blend of frozen yogurt and ice cream, this cool treat only tastes sinful.
Serves 8
INGREDIENTS
9

graham crackers

2

tablespoons

melted butter

1 1/2

cups

nonfat strawberry frozen yogurt, softened

1/2

Heath bar, broken into small pieces

1 1/2

cups

mint ice cream, softened

1 1/2

cups

crushed Oreo cookies

1 1/2

cups

nonfat chocolate frozen yogurt, softened

2

fresh strawberries, halved
PREPARATION
Combine crackers and butter in a food processor. Press mixture into a 9" deep-dish pie pan to form crust. Chill in freezer for 20 minutes. Remove; spread strawberry frozen yogurt over crust. Sprinkle Heath bar on top. Freeze until firm. Remove. Spread a layer of mint ice cream over frozen yogurt; sprinkle 1 cup Oreos on top. Freeze until firm. Spread a layer of chocolate frozen yogurt on ice cream; freeze until firm. Sprinkle remaining 1/2 cup Oreos on top. Garnish each slice with strawberries.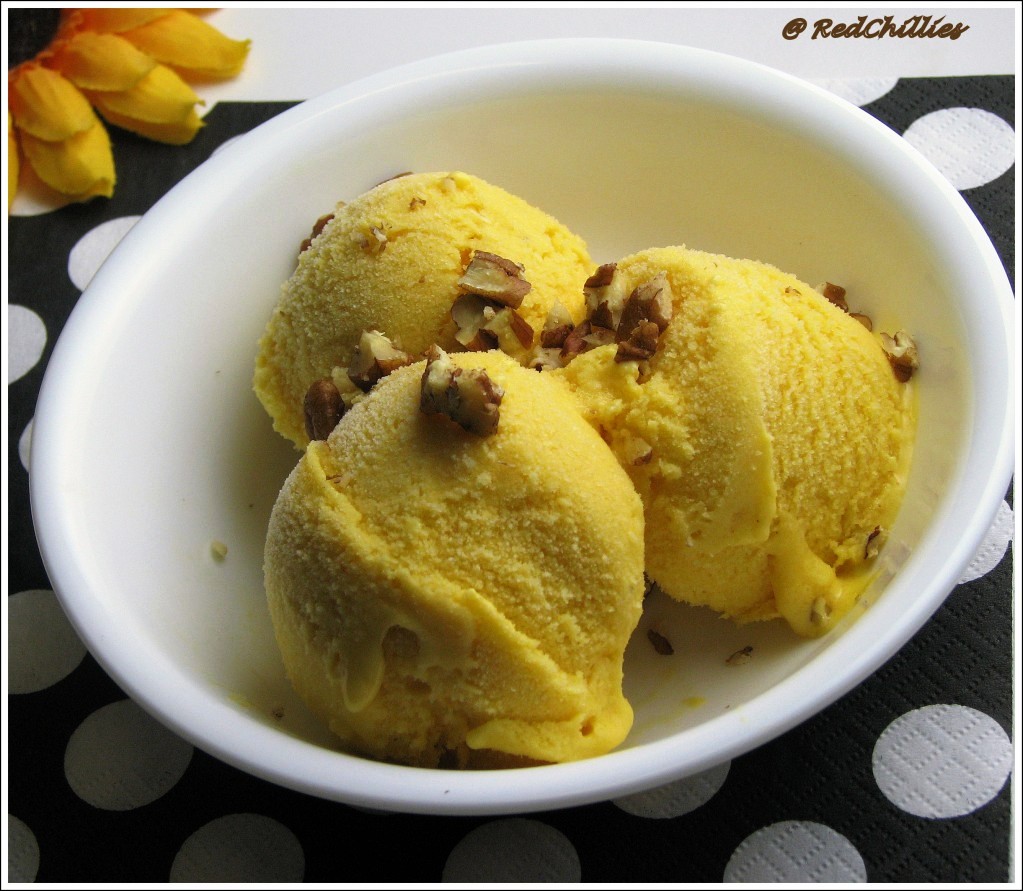 Mango Ice Cream Recipe
Ingredients:
1 measure mango pulp ( I used sweetened mango pulp)/ use any fruit of choice
1 measure coconut milk ( I used organic light coconut milk)
1 measure evaporated milk
Sugar (optional)
Pecans/almonds
Small Mango pieces (optional)
Cardamom powder(optional)
Method
Blend together mango pulp, coconut milk, evaporated milk and cardamom powder thoroughly.
Check for taste and add sugar and blend again well.
Transfer it to an air tight container and freeze it for about 6 hours.
After 6 hours take out the frozen mixture, allow to set and then blend it again.
Repeat step 2 and 3 one more time after 6 hours. During this time add mango pieces (optional) after blending mix well and then freeze again.
(So overall blend the mixture 3 times in a interval of 6 hours, freezing it in between.)
Before serving take it out of the freezer, allow to set, scoop out the ice-cream then top it off with nuts and serve