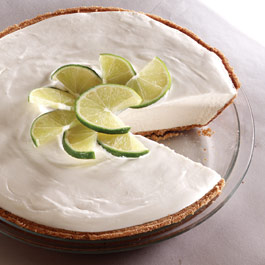 MARGARITA PIE - 2

1 can Bacardi Margarita Mixer
2 cups vanilla ice cream
2 cups lime sherbert
1 Graham cracker crust
8 thin lime slices for decorating pie
Remove margarita mixer, ice cream, and sherbert from freezer. Spoon half of mixer (2/3 cup) into a large bowl to soften. Freeze remaining mixer for other use. Combine ice cream and sherbert with softened margarita mixer. Spoon mixture into pie crust, mounding towards the center. Cover pie with plastic lid and freeze for 30 minutes until firm.
To serve, cut frozen pie into 8 portions and decorate with lime slices.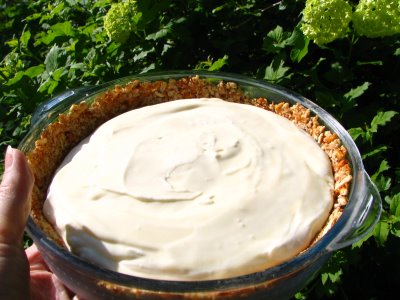 FROZEN LEMONADE PIE
graham cracker crust
1 (14 oz) can sweetened condensed milk, chilled
1 (12 oz) container whip topping, thawed
1 (6 oz) can frozen lemonade concentrate, keep frozen
1 teaspoon lemon zest
Preheat oven to 350. In medium bowl, add chilled sweetened condensed milk and cool whip and fold gently. Add frozen lemonade and continue to gently fold. Do not let the mixture become soupy. Pour mixture into pie crust and freeze overnight. Garnish with lemon peel.
Lime Pie Ice Cream
Ingredients
1 1/2 cups sweetened condensed milk
1 1/2 cups heavy whipping cream
1 cup lime juice
1 teaspoon lime zest
4 to 6 graham crackers, for garnish
Directions
Mix ingredients together and refrigerate until cold. Pour into ice cream maker and mix for 12 to 15 minutes. Transfer to another container and place plastic wrap on ice cream and cover container tightly with a lid. Place in freezer for several hours.


When ready to serve, garnish with graham crackers.