MORE STRONG THAN TIME

Since I have set my lips to your full cup, my sweet,
Since I my pallid face between your hands have laid,
Since I have known your soul, and all the bloom of it,
And all the perfume rare, now buried in the shade;

Since it was given to me to hear on happy while,
The words wherein your heart spoke all its mysteries,
Since I have seen you weep, and since I have seen you smile,
Your lips upon my lips, and your eyes upon my eyes;

Since I have known above my forehead glance and gleam,
A ray, a single ray, of your star, veiled always,
Since I have felt the fall, upon my lifetime's stream,
Of one rose petal plucked from the roses of your days;

I now am bold to say to the swift changing hours,
Pass, pass upon your way, for I grow never old,
Fleet to the dark abysm with all your fading flowers,
One rose that none may pluck, within my heart I hold.

Your flying wings may smite, but they can never spill
The cup fulfilled of love, from which my lips are wet;
My heart has far more fire than you can frost to chill,
My soul more love than you can make my soul forget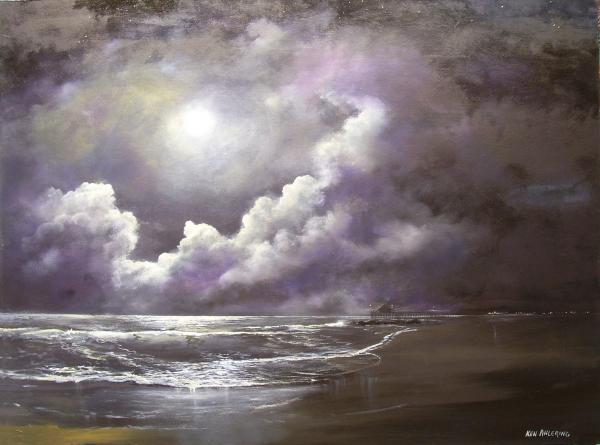 THE OCEAN'S SONG

We walked amongst the ruins famed in story
Of Rozel-Tower,
And saw the boundless waters stretch in glory
And heave in power.

O Ocean vast! We heard thy song with wonder,
Whilst waves marked time.
"Appear, O Truth!" thou sang'st with tone of thunder,
"And shine sublime!

"The world's enslaved and hunted down by beagles,
To despots sold.
Souls of deep thinkers, soar like mighty eagles!
The Right uphold.

"Be born! arise! o'er the earth and wild waves bounding,
Peoples and suns!
Let darkness vanish; tocsins be resounding,
And flash, ye guns!

"And you who love no pomps of fog or glamour,
Who fear no shocks,
Brave foam and lightning, hurricane and clamour,--
Exiles: the rocks!"
A SUNSET
I love the evenings, passionless and fair, I love the evens,
Whether old manor-fronts their ray with golden fulgence leavens,
In numerous leafage bosomed close;
Whether the mist in reefs of fire extend its reaches sheer,
Or a hundred sunbeams splinter in an azure atmosphere
On cloudy archipelagos.

Oh, gaze ye on the firmament! a hundred clouds in motion,
Up-piled in the immense sublime beneath the winds' commotion,
Their unimagined shapes accord:
Under their waves at intervals flame a pale levin through,
As if some giant of the air amid the vapors drew
A sudden elemental sword.

The sun at bay with splendid thrusts still keeps the sullen fold;
And momently at distance sets, as a cupola of gold,
The thatched roof of a cot a-glance;
Or on the blurred horizon joins his battle with the haze;
Or pools the blooming fields about with inter-isolate blaze,
Great moveless meres of radiance.

Then mark you how there hangs athwart the firmament's swept track,
Yonder a mighty crocodile with vast irradiant back,
A triple row of pointed teeth?
Under its burnished belly slips a ray of eventide,
The flickerings of a hundred glowing clouds in tenebrous side
With scales of golden mail ensheathe.

Then mounts a palace, then the air vibrates--the vision flees.
Confounded to its base, the fearful cloudy edifice
Ruins immense in mounded wrack;
Afar the fragments strew the sky, and each envermeiled cone
Hangeth, peak downward, overhead, like mountains overthrown
When the earthquake heaves its hugy back.

These vapors, with their leaden, golden, iron, bronzèd glows,
Where the hurricane, the waterspout, thunder, and hell repose,
Muttering hoarse dreams of destined harms,--
'Tis God who hangs their multitude amid the skiey deep,
As a warrior that suspendeth from the roof-tree of his keep
His dreadful and resounding arms!

All vanishes! The Sun, from topmost heaven precipitated,
Like a globe of iron which is tossed back fiery red
Into the furnace stirred to fume,
Shocking the cloudy surges, plashed from its impetuous ire,
Even to the zenith spattereth in a flecking scud of fire
The vaporous and inflamèd spaume.

O contemplate the heavens! Whenas the vein-drawn day dies pale,
In every season, every place, gaze through their every veil?
With love that has not speech for need!
Beneath their solemn beauty is a mystery infinite:
If winter hue them like a pall, or if the summer night
Fantasy them starre brede.
THE POOR CHILDREN

Take heed of this small child of earth;
He is great; he hath in him God most high.
Children before their fleshly birth
Are lights alive in the blue sky.

In our light bitter world of wrong
They come; God gives us them awhile.
His speech is in their stammering tongue,
And his forgiveness in their smile.

Their sweet light rests upon our eyes.
Alas! their right to joy is plain.
If they are hungry Paradise
Weeps, and, if cold, Heaven thrills with pain.

The want that saps their sinless flower
Speaks judgment on sin's ministers.
Man holds an angel in his power.
Ah! deep in Heaven what thunder stirs,

When God seeks out these tender things
Whom in the shadow where we sleep
He sends us clothed about with wings,
And finds them ragged babes that weep!