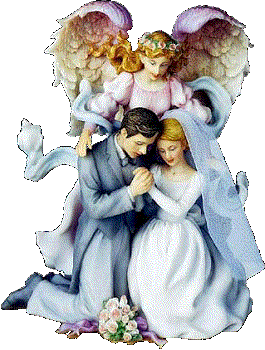 God has brought you here together
To be united in His love
Joined in Holy Matrimony
With faith in God above
Let your faith guide your lives
With a measure of God's grace
For this is what keeps love strong
Through whatever you may face
Keep building your marriage on
The foundation of Christ
It will not crumble or give way
Through the daily pressures of life
But it will stand the test of time
Growing stronger day by day
Just keep your hearts truly united
Joined as one when you pray
The cord that binds your hearts
Will not fray or break in two
When you build your lives on God
He will walk with you.

To Be One With Each Other
What greater thing is there for two human souls
than to feel that they are joined together to strengthen
each other in all labor, to minister to each other in all sorrow,
to share with each other in all gladness,
to be one with each other in the
silent unspoken memories?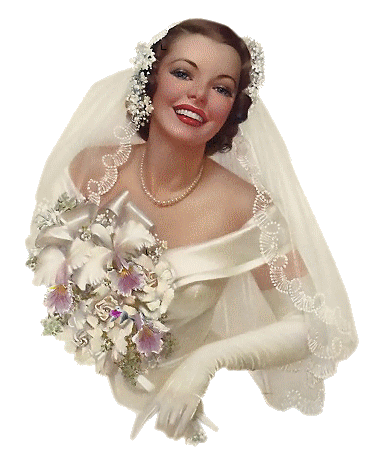 by Elizabeth Barret Browning
How do I love thee? Let me count the ways.
I love thee to the depth and breadth and height
My soul can reach, when feeling out of sight
For the ends of Being and ideal Grace.
I love thee to the level of everyday's
Most quiet need, by sun and candle-light.
I love thee freely, as men strive for Right;
I love thee purely, as they turn from Praise.
I love thee with a passion put to use
In my old griefs, and with my childhood's faith.
I love thee with a love I seemed to lose
With my lost saints, --- I love thee with the breath,
Smiles, tears, of all my life! --- and, if God choose,
I shall but love thee better after death.

To My Dear and Loving Husband
If ever two were one, then surely we.
If ever man were lov'd by wife, then thee.
If ever wife was happy in a man,
Compare with me, ye women, if you can.
I prize thy love more than whole Mines of gold,
Or all the riches that the East doth hold.
My love is such that Rivers cannot quench,
Nor ought but love from thee give recompense.
Thy love is such I can in no way repay;
The heavens reward thee manifold I pray.
Then while we live, in love lets so persevere,
That when we live no more, we may live ever.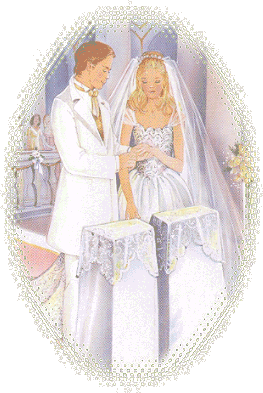 From The Imitation of Christ
by Thomas a Kempis
Love is a great thing, a great good in every way; it alone lightens what is heavy, and leads smoothly over all roughness. For it carries a burden without being burdened, and makes every bitter thing sweet and tasty. Love wants to be lifted up, not held back by anything low. Love wants to be free, and far from all worldly desires, so that its inner vision may not be dimmed and good fortune bind it or misfortune cast it down. Nothing is sweeter than love; nothing stronger, nothing higher, nothing wider; nothing happier, nothing fuller, nothing better in heaven and earth; for love is born of God...
Love keeps watch is never unaware, even when it sleeps; tired, it is never exhausted; hindered, it is never defeated; alarmed, it is never afraid; but like a living flame and burning torch it bursts upward and blazes forth...
Love is quick, sincere, dutiful, joyous, and pleasant; brave, patient, faithful, prudent, serene, and vigorous; and it never seeks itself. For whenever we seek ourselves, we fall away from love. Love is watchful, humble, and upgrade; not weak, or frivolous, or directed toward vain things; temperate, pure, steady, calm, and alert in all the senses. Love is devoted and thankful to God, always trusting and hoping in him, even when it doesn't taste his sweetness, for without pain no one can live in love.


From

The Prophet,

Kahlil Gibran
Love has no other desire but to fulfil itself.
But if you love and must needs have desires, let here be your desires:
To melt and be like a running brook that sings its melody to the night.
To know the pain of too much tenderness.
To be wounded by your own understanding of love;
And to bleed willingly and joyfully.
To wake at dawn with a winged heart and give thanks for another day of loving;
To rest at the noon hour and meditate love's ecstasy;
To return home at eventide with gratitude;
And then to sleep with a prayer for the beloved in your heart
And a song of praise upon your lips.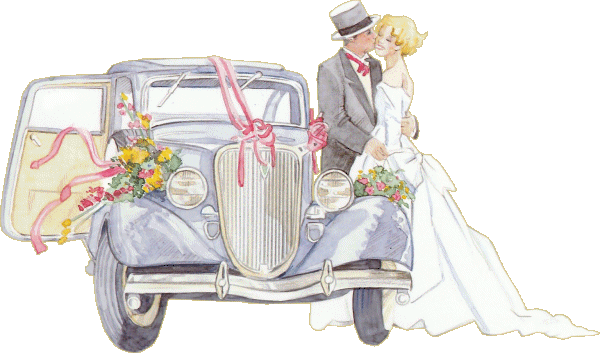 Oh the Places You'll Go

- Dr Seuss
Congratulations!
Today is your day.
You're off to Great Places!
You're off and away!
You have brains in your head.
You have feet in your shoes.
You can steer yourself
any direction you choose.
You're on your own. And you know what you know.
And YOU are the couple who'll decide where to go.
You'll look up and down streets. Look 'em over with care.
About some you will say, "We don't choose to go there."
With your heads full of brains and your shoes full of feet,
you're too smart to go down, any not-so-good street.
And you may not find any
you'll want to go down.
In that case, of course,
you'll head straight out of town.
It's opener there
in the wide open air,
Out there things can happen
and frequently do
to people as brainy
and footsy as you.
And when things start to happen,
don't worry. Don't stew.
Just go right along.
You'll start happening too.
OH! THE PLACES YOU'LL GO!
You'll be on your way up!
You'll be seeing great sights!
You'll join the high fliers
who soar to great heights!
You won't lag behind, because you'll have all the speed.
You'll pass the whole gang, and you'll soon take the lead.
Wherever you fly you'll be best of the best.
Wherever you go, you will top all the rest.
Except when you don't.
Because sometimes, you won't.
You'll get mixed up of course,
as you already know.
You'll get mixed up
with so many strange birds as you go.
So be sure when you step.
Step with great care and great tact
and remember that Life's a Great Balancing Act.
Just never forget to be dexterous and deft.
And never mix up your right foot with your left.
And will you succeed?
Yes! You will indeed!
(98 and ¾ percent guaranteed.)
KIDS, YOU'LL MOVE MOUNTAINS!
So, be your name Buxbaum or Dowrie or Bass
or Mordecai Ali Van Allen O'Shea,
you're off to great places!
Today is your day!
Your mountain is waiting.
So … get on your way!

I love you not only for what you are,
But for what I am when I am with you
I love you not only for what you have made of yourself
But for what you are making me
I love you for the part of me that you bring out.
I love you for passing over all my foolish and weak traits,
That you can't help but see
I love you for drawing out into the light my beauty,
That no one else had looked quite far enough to din
I love you.


Song written by Daniel Handler
Asleep and Dreaming
I've seen you laugh at nothing at all
I've seen you sadly weeping
The sweetest thing I ever saw
was you asleep and dreaming
I've seen you when your ship came in
And when your train was leaving
The sweetest thing I ever saw
was you asleep and dreaming
Well you may not be beautiful
But it's not for me to judge
I don't know if you're beautiful
Because I love you too much……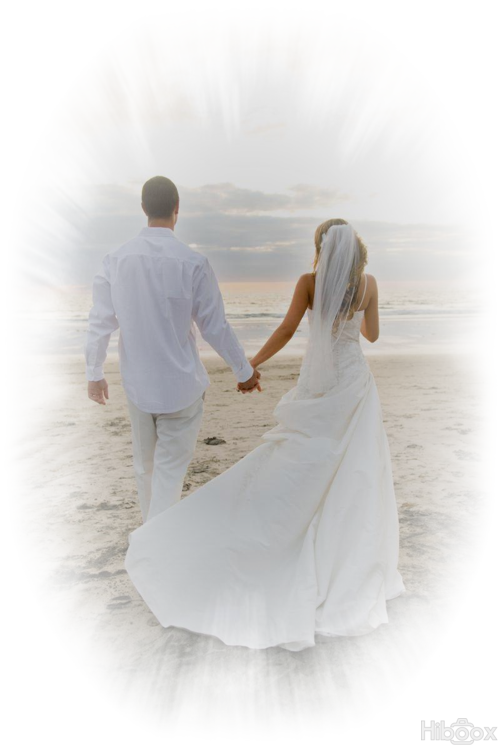 FROM THE SANSKRIT
Look to this day for it is life
The very life of life in its brief course
lie all the varieties and realities of your existence
The bliss of growth
The glory of action
The splendor of beauty
For yesterday is already a dream
And tomorrow is only a vision
But today, well lived, makes every yesterday a dream of happiness
And every tomorrow a vision of hope
Look well, therefore, to this day.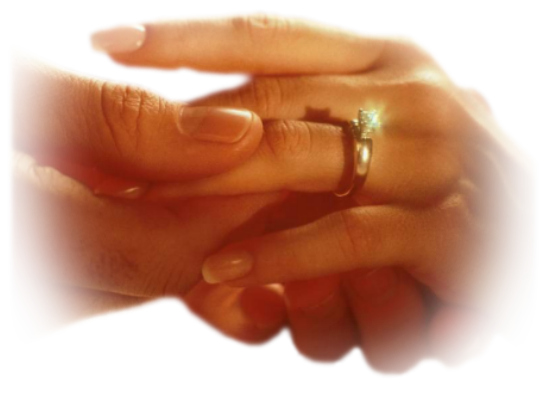 WEDDING PRAYER -
Adapted . Robert Lois Stevenson (1850-1894)
Lord, behold our family and friends here assembled
We thank you for this place in which we celebrate
For the love that it unites us
For the peace accorded to this day
For the hope with which we dream
For the health, the work, the food,
And the bright skies that make our lives delightful
For our friends and family in all parts of the earth.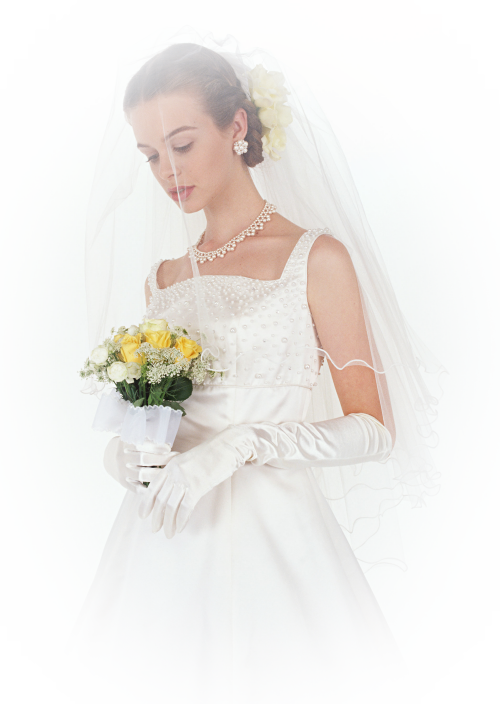 by Claire Blinkhorn-Street
I think of the most beautiful memories in my life
from the first day we met,
And nothing will be more memorable than
when I fell in love with you
With each passing day there is no greater feeling
I will never stop falling in love
Yesterdays memories only count
if they are spend with you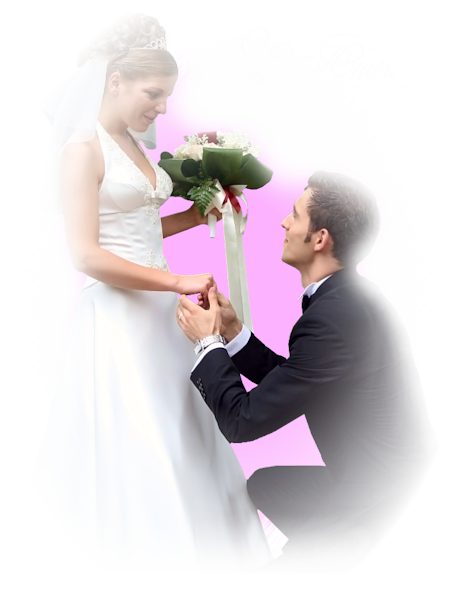 A Groom's Thoughts - by Craig Astley
Wakey wakey open your eyes,
Today is the best day in both of our lives.
Today we'll be joined in matrimony,
Us together my Princess, you and Me.
Climb out of bed my darling and begin to dress,
I know today you're sure to impress,
With a flowing outfit I am longing to see,
Made more perfect with your glowing, natural beauty.
Your hair's been done perfect, your make up too,
Soon we'll be married and my dreams will come true.
At the church I'll be waiting for you to arrive,
To begin the new chapter of the rest of our lives.
There at the church I eagerly wait,
For you to arrive of course fashionably late,
Over the brow the car does appear,
Soon you'll be in my arms with nothing to fear.
The Wedding March begins the room filled with pride,
To see the joining of love between myself and my bride,
As you walk down the aisle the emotion is felt,
And as my eyes fixes upon you my heart does melt.
The ceremony begins and love fills the air,
The love we feel for each other so pure so rare,
With tears in our eyes we say our I do's,
And promise to each other this love we won't lose.
The ceremonies over, the register is signed,
The woman I've married I was lucky to find,
Next to the reception where good times awaits,
To celebrate the love of two perfect soulmates.
At the reception the food begins to arrive,
On each table conversations are alive,
Two families mixing and be-coming one,
New friends and acquaintances now the welcomes are done.
Soon are the speeches from best man and co.,
With smiles and warmth from laughter in flow,
Then with the toasts to us the two,
I gaze and feel my full love for you.
Now the first dance in front of our guests,
Stood close together chest to chest,
The music is flowing my heart begins to pull,
My wife in my arms my life is now full.
The evening begins and the drinks start to flow,
Everyone's dancing and enjoying the show,
But times getting on and the room starts to empty,
We thank them for coming and sharing emotions a-plenty.
The evening draws to a close and soon it will end,
But never will our love with me and my best friend,
Our memories of this day will last forever so true,
And remember my wife I will always love you!